BIOPHARMA & BIOCHEMICAL EXPRESS (Chilled / Frozen)
Logistics of biopharma and biochemical cargo faces new and complicated regulations every year. Do you currently face these problems?
Cargo gets melt before reaching the consignee
Do not know what documents needed for international transportation
Get headache because of mistake or incomplete custom documents
Wasting lots of time on import permits and other related documents
Biopharma & Biochemical Express (Chilled / Frozen) is the service of international transportation with temperature control of cargo. We take care all documentation for custom clearance for both export and import process. Our service covers preparation of other related permits and certificates necessary for international transportation. We keep close monitoring the status of your cargo and keep reporting status of shipments until the cargo arrive the consignee safely.
This service is customized for sensitive cargo in biopharmaceuticals, biochemical, medical and medical-instrumental industry. It suits for time-and temperature-sensitive products, such as pharmaceutical products, clinical trial projects, life-saving logistics, vaccine, blood, biological substances, biochemical substance, medical device, and healthcare-related products.
Range of Temperature Control
+15 to +25 degree Celsius
+2 to +8 degree Celsius
0 to -70 degree Celsius
-150 to -196 degree Celsius
Easy & Convenient: Normally, the international shipping of temperature controlled shipment is very complicated and need special care along the route of transportation in term of temperature consistency and related custom regulations. We serve you with our experience and proof of record with our customers. Our service will make your products internationally transport under temperature controlled (both chilled and frozen) conditions with peace at your mind.
Normal Shipping Process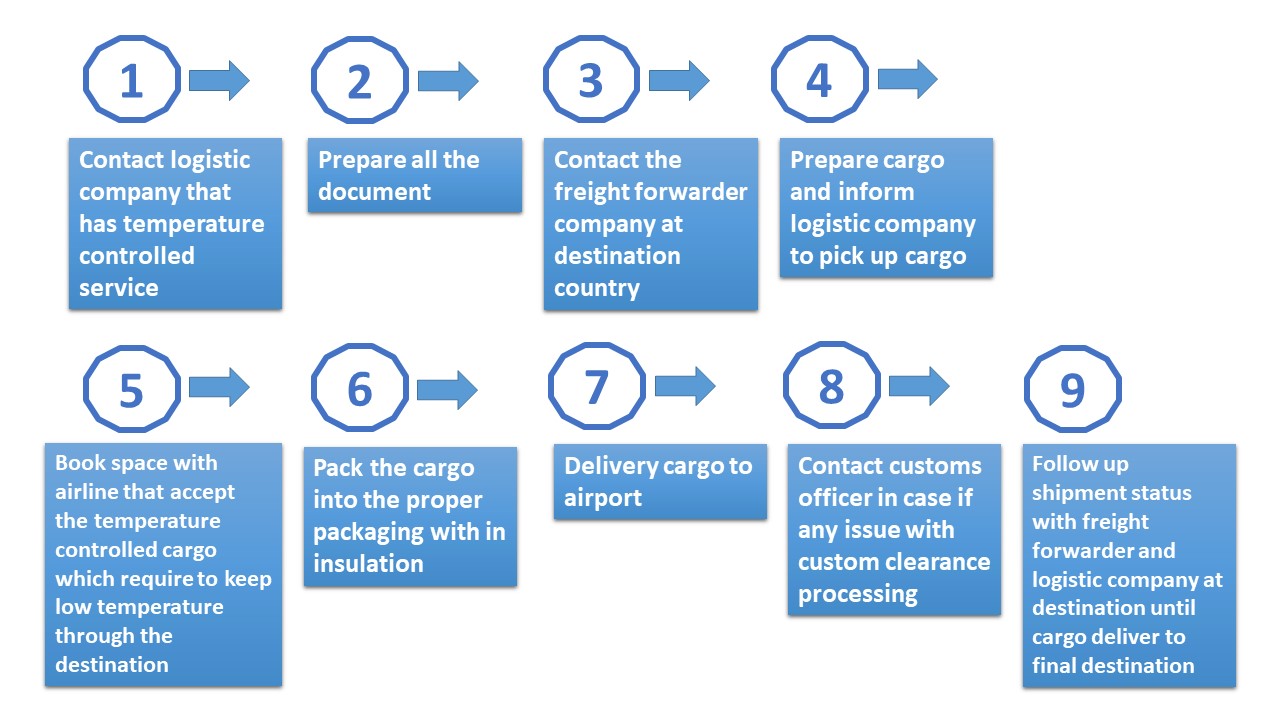 (1) You contact a shipping company who has service of temperature controlled transportation
(2) You arrange all related custom documents
(3) You contact a custom broker at destination country for advanced preparation
(4) You make appointment with cargo company to pick-up your product.
(5) You contact and buy cargo space from an airline
(6) You do packing of your product with a temperature control packaging.
(7) You let the shipping company transport your cargo from origin country to destination country.
(8) You need to contact custom office at destination country in case that your cargo may have any issues with custom clearance and regulations.
(9) You need to monitor the status of your cargo with the shipping company and custom broker until your cargo arrive the consignee.
JET8's Easy Shipping Process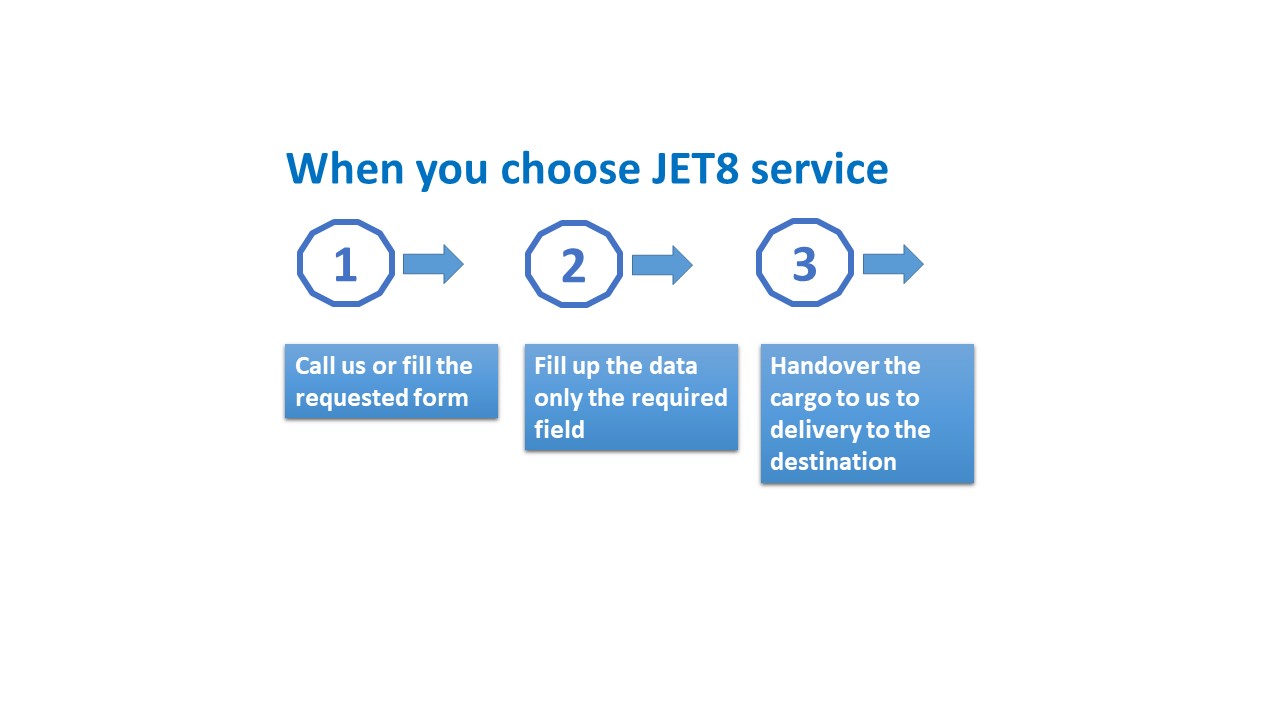 (1) You make a phone call to us.
(2) You fill in necessary information in our shipping inquiry form.
(3) You hand over your product to us, and wait until we deliver your product to consignee.
One-stop Service is our strength. Our service covers all steps of international shipping,
including picking up our cargo, packing cargo using our temperature control package, export custom clearance, moving your cargo with reliable international airlines, import custom clearance, and
delivering your cargo to consignee. We serve you with our team that has knowledge and experience and takes good care of your cargo. You can relax and better use your time for focusing your main business activities by simply giving shipping tasks on our hands.
Our proof performance. Our customers are medical institutions, research institutes and
universities who trust in quality of our service for their international shipping of research and medical substances. We have skillful and reliable partners worldwide to take care your shipments. You can trust in our service.
Problems in international temperature controlled shipment can be easily occurred
with inexperience cargo companies or shipping companies. Temperature control with consistency is not what every shipping company can do. In addition, each country has their own custom regulations that are different from other countries. The regulations are also changed and updated from time to time. Do not risk your cargo.
JET8's performance is proof that we can handle all problems and obstacles during international shipping process. We offer flexible and customized services for each customer, such as level of temperature, insurance, packing materials, etc. Meeting the customer requirements
is our aim. Do not risk your cargo. Give your cargo in our professional hands.
Examples of cargo that JET8 has been handling.
Medical
and Scientific Items

Amine
type hardner

Glycerin
(regulated goods)

Hyaluronic
acid

Amino
acid

Glycerol

Human
blood serum

Yellow
sand

Human
urine sample

RNA
sample

Enzyme
sample

Phenol
(regulated goods)

DNA
sample

Plasmid
antibodies

Phenol
resin

Insulin

Trypsin

Peptide
derivative (poisonous goods)

Rabbit
blood serum

Cell
cultures

Spinach
chloroplast

Urethane
foam

Cell-culturing
kit

Epoxy
adhesive

Dental
adhesive

Cesium
chloride

Food
sterilization kit

Liquid
mitomycin C

Endotoxin

Protein
cells

Lab
mouse blood serum

Nucleic
acid

Elecrtically-conductive
gel

Mountain
goat blood serum

Quinoline
compound

DMEM
culture fluid

Pepcid
organic compound

Metal
adhesive

Cloned
DNA samples

Lab
rat brain tissue samples

Silver-based
ink

Electrically
conductive paste

Phosphoric
acid buffering solution

Pewter
cream (regulated goods)

Soil

More
Countries that JET8 has records of work
The
U.S.A.

South
Korea

New
Zealand

Ireland

Japan

Norway

England

Singapore

Hungary

Germany

Switzerland

The
Philippines

Italy

Sweden

Finland

India

Spain

France

Indonesia

Sri
Lanka

Canada

Bangladesh

Thailand

Belgium

Australia

Taiwan

Hong
Kong

The
Netherlands

China

Malaysia

Vietnam

Myanmar

Mexico

Laos

Cambodia

More